The Chevy Silverado is a popular pickup truck model that has been in production since the late 1990s. Over the years, the Silverado has undergone many changes and improvements, including upgrades to the headlights. One popular modification that some Silverado owners choose to make is a headlight conversion, swapping out the original headlights for newer, more advanced models.
There are several reasons why a Silverado owner may choose our Chevy Silverado headlight conversion. One common reason is to improve visibility on the road. Newer headlights often feature brighter bulbs and more advanced technology, which can help drivers see more clearly in low light conditions. Additionally, some newer headlights offer features like adaptive lighting, which adjusts the direction of the beams based on the angle of the vehicle, providing even better visibility on the road.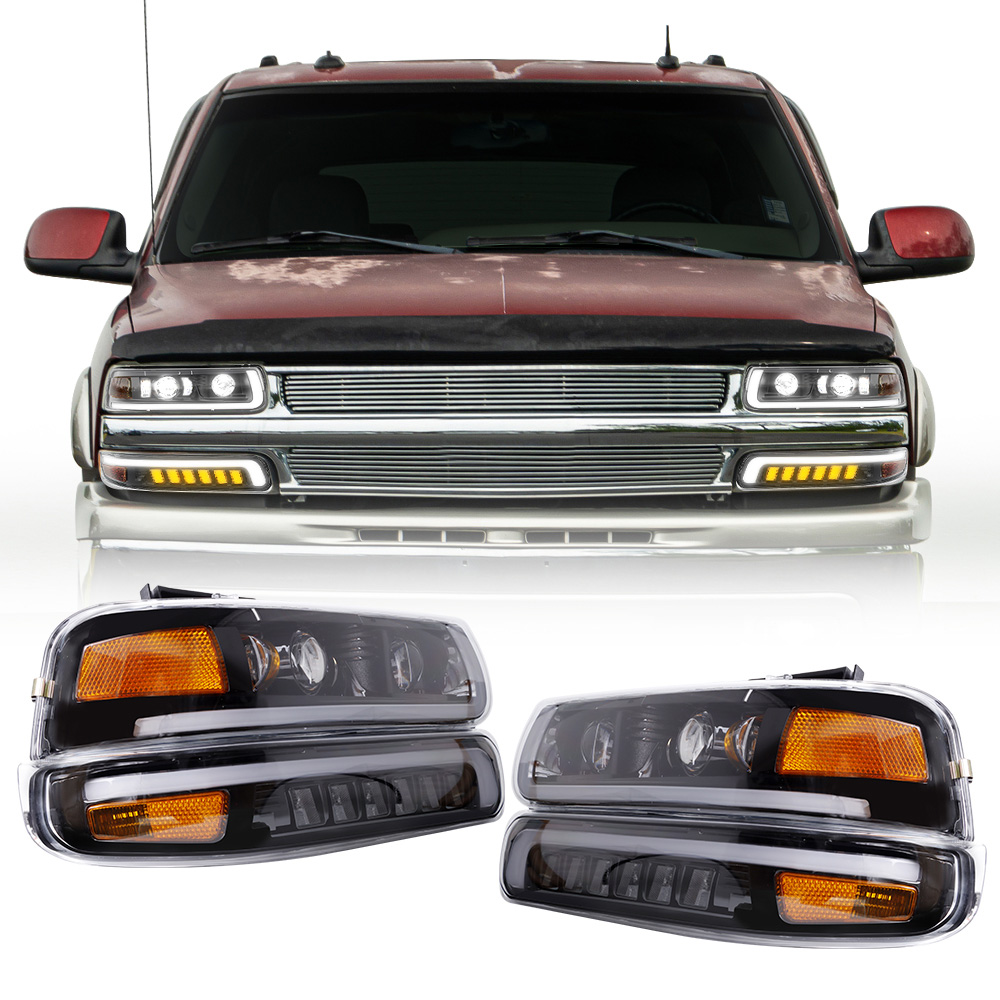 Another reason why some Silverado owners choose to do a headlight conversion is to improve the appearance of the vehicle. Upgraded headlights can give the Silverado a sleek, modern look that sets it apart from other trucks on the road. Additionally, some newer headlights feature LED or halo lighting, which can add a unique and eye-catching touch to the vehicle's overall aesthetic.
There are several different types of headlight conversions that can be done on a Chevy Silverado. One option is a projector headlight conversion, which replaces the original reflector-style headlights with newer projector-style models. Projector headlights feature a more focused beam pattern, which can improve visibility and reduce glare for other drivers on the road.
Another popular headlight conversion option for the Silverado is a retrofit kit, which allows owners to install newer, more advanced headlights without having to replace the entire headlight assembly. Retrofit kits typically include the necessary wiring and hardware to install the new headlights, making the conversion process relatively straightforward.
When choosing a headlight conversion for a Chevy Silverado, it's important to consider both the functionality and appearance of the headlights. Some newer headlights may offer more advanced technology and features, but they may not necessarily be the best fit for every driver's needs. It's also important to ensure that any headlight conversion is legal and compliant with local regulations.
A headlight conversion can be a great way to improve the functionality and appearance of a Chevy Silverado. With several different options available, there is sure to be a headlight conversion that is a perfect fit for any Silverado owner's needs and preferences.